STO. NIÑO SHRINE
AND HERITAGE MUSEUM
Tacloban City
Houses the miraculous image of Sto. Niño and priceless art objects.
VISAYAS STATE COLLEGE OF AGRICULTURE
Baybay, Leyte
Premier agricultural college in the south situated on the foothills of Baybay mountains.
NATIONAL MARITIME POLYTECHNIC
Cabalawan, Tacloban City
The most modern graduate institution for seamen in Asia. The multi-million training complex stands on a 15-hectare campus along picturesque San Juanico Strait.
PEOPLE CENTER AND LIBRARY
Tacloban City
A stately multi-purpose hall with a library containing more than 50,000 volumes.


[ Sto. Niño Shrine ]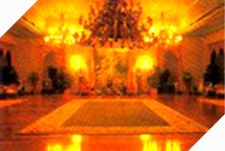 [ Heritage Museum ]